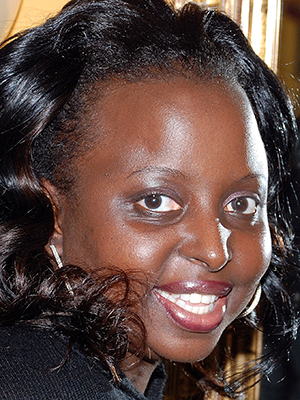 Hannah
I am originally from a small town in West Africa (Firestone, Liberia) and migrated to the USA in 1986. Coming to the United States was a great opportunity for a girl like me because of my humble background. I was raised by parents who put God first above everything. My mother told me to "Never give up hope, stay focused and work hard because with hard work, you will always EAT." My dad on the other hand said to me "Never stop learning, let the sky be the limit because with learning comes wisdom." I will forever be grateful to them both. I am married to my wonderful husband Mr. Lamin Kamara and together we are blessed with three beautiful children Jennela, Nabieu and Hanan.
My passion for doing hair started since I was a little girl and I dreamed of one day having my own business. After high school and junior college, I decided to enroll into a beauty academy and graduated in 1998. After completing my training, I was hired and worked as a shampoo assistant for one year until I met Mrs. Nevelyn Holland who gave me the skills that I needed, the courage to be my own boss and the faith to believe that "I CAN DO ALL THINGS THROUGH CHRIST WHO STRENGHTENS ME".
I open my first salon in 2004 and named it Hannah's Place in Mitchellville MD and was blessed to have it for eight successful years. Because of the commitment as a mother and other factors in life, I decided to close that salon and took some time off to try other things. To say the least, it did not work for too long and in 2012, I re-opened my new salon Hannah's Hair and Nail Studio in Lanham MD.
Hannah's Hair and Nail Studio is committed to hiring dedicated hair stylist and nail technicians who listen to client's needs, and concern about their hair and nail care. We pride ourselves in providing a calm and relaxing atmosphere for ALL of our clients.
It is my prayer that we will continue to grow with you, as I commit myself in making sure you receive the utmost service for your nails and hair when you are here with us.
I wish to take the opportunity to thank you now in advance for taking your time to hear a little about me, my staff, and most of all, Hannah's Hair and Nail studio. We hope to see you soon.